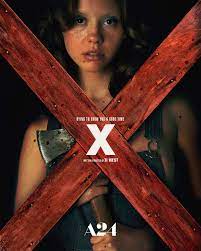 The horror slasher 2022 flick X hit the box office March 18 directed by Ti West and distributed by A24.
I got to view the movie myself twice in theaters and I can say this film won't be for everyone, but that isn't to say this is a bad movie by any means.
Simple story, but with repeat viewings becomes more interesting each time around, great cinematography and editing, and overall good performances overall. The characters are nothing simple but the movie knows what it's trying to be the whole way through and stands out amongst other slashers for its style.
This was overall a pretty decent horror movie but can be a lot to stomach for the average viewer so I have to give X a 7/10.
If you're interested be sure to check it out for yourself in theaters