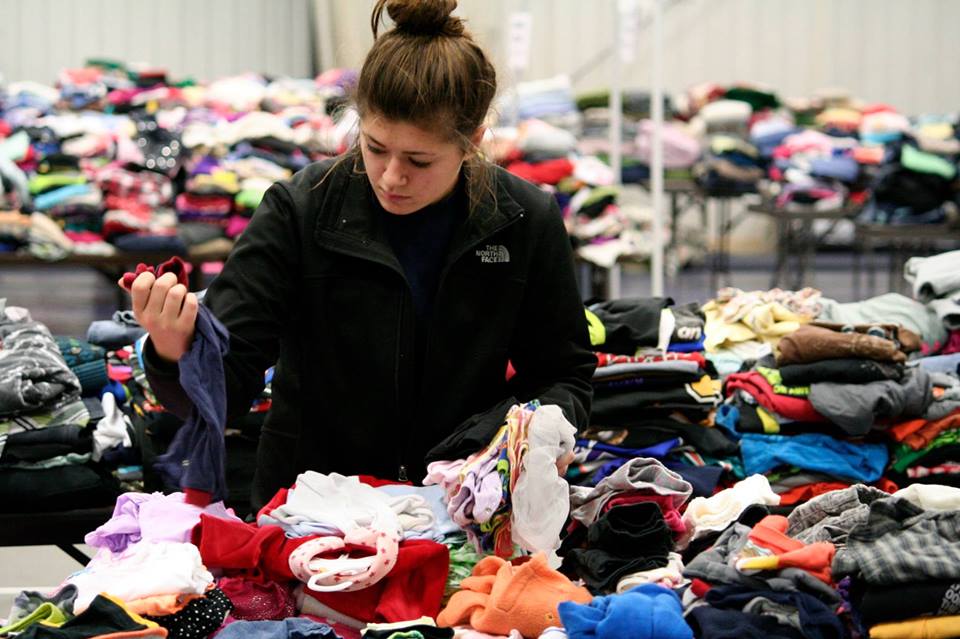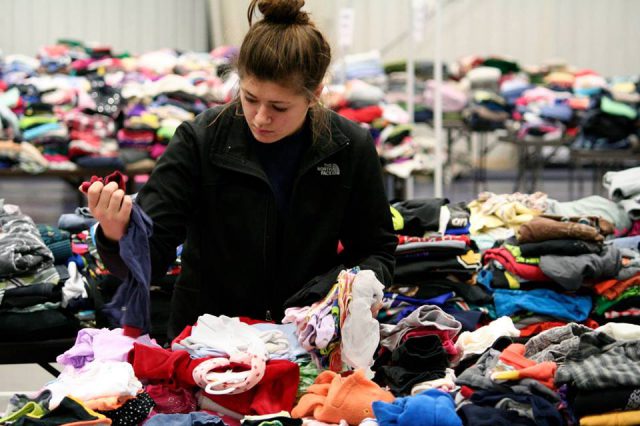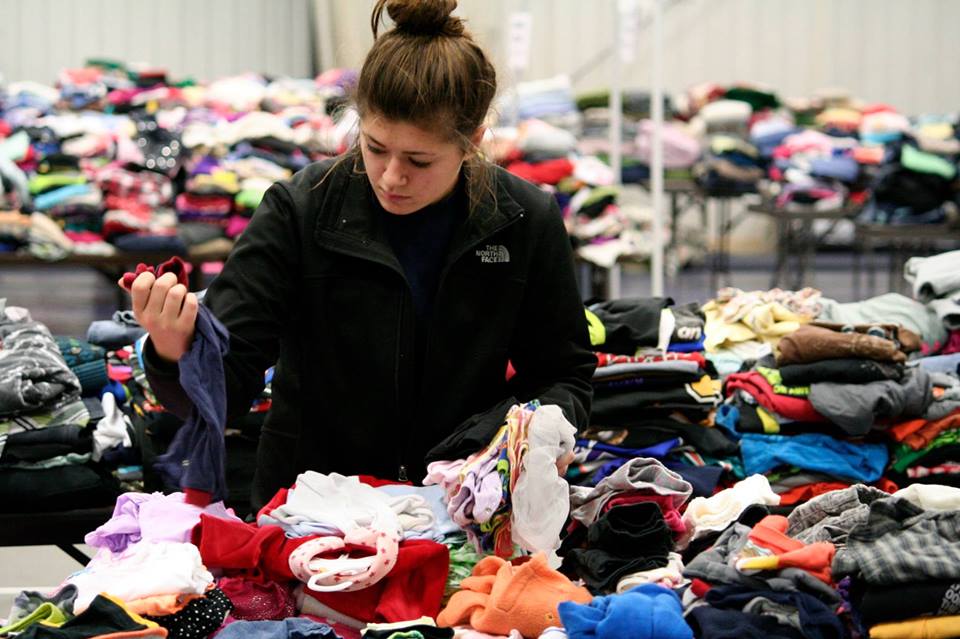 (Photo by Paige Siewert; taken last year at the SWYW event)
Shoes, gloves, clothes, toys, blankets, and much more will fill Iowa Central Community College's Career Education Building for the Share What You Wear's (SWYW) 14th annual event. Doors will open to the public on Dec. 2 from 9:00 a.m. to 1:00 p.m. It is best to arrive early, as people begin lining up as early as 4:00 a.m. Share What You Wear is exactly wha
t it sounds like: donating and sharing with others what one no longer needs. People can come choose and take home anything they need from thousands of donated items.

Anyone can volunteer. Students are highly encouraged to come and help on Thursday from 5:00 p.m. to 7:00 p.m. and Friday all day to set up and sort through clothes. If students want to give back and be part of this giving organization, they can do so by donating items that are in good conditions or volunteering on the days the organization sets up or the day of the event. "We talk about SWYW as one of the biggest events on campus," said Kris Nerem-Lowery, Tutor Coordinator Education Specialist of TRIO. "We want students to start thinking that way, doing things outside of what they normally would do." Helping out at an event like this can also be a great addition to resumes for students. There are also big cardboard boxes around campus where students can drop off stuff. These donations can be anything from clothes to household items to toys.
"We need everything. Toys, kids love the toys. I mean, it's their Christmas to a lot of people," said Rick Sandquist, Iowa Central softball coach and Athletic Director.

Sandquist was also who brought the idea of SWYW to Fort Dodge in 2004. "I had seen this at a church I was going to down in Des Moines, they had a Share What You Wear, it was actually a three-day event, and just tons of people in Des Moines community and surrounding community would go to and they had anything and everything," said Sandquist. "I kind of thought, hey, Iowa Central and Fort Dodge community could use something like this."
During the event, a daycare will be offered for children as it gets very hectic with the expected turnout of more than 800 people. Food will be provided as well; donuts and juice will be available in the morning, and as it gets closer to 11 a.m., hot dogs, chips, and juice will be brought out. There will also be a wrapping station, where people can wrap any item they wish. Everyone that comes in the door will also receive a free gift.

"Every person that comes in that day, child, adult, doesn't matter, they leave with one new gift," said Jenny Shivers, Advising Director at Iowa Central. "Kris and I do all the fundraising for it. We sell t-shirts, pancake breakfast, we do a donation letter to businesses, emails to just staff, and then we get to go out and buy all the new toys."
The SWYW event has the hearts of many people. Shivers was at a loss of words when describing how much she enjoyed being a part of it. "It's something you don't understand until you see it," said Shivers. "That's why I kept doing it. I didn't understand it until, you know, Friday was great, but once you actually experience that day on Saturday, it's amazing. You want to go back every year and do it. You don't know what you're missing. Honestly, like you don't know, I don't even know how to put it into words."

With its soon-to-be 14th annual event, the SWYW organization continues to greatly impact anyone that takes part in it; from those who receive to those who give. You never know what you will gain.