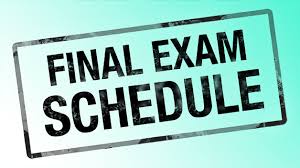 That time of the year has arrived again, so here is your guide to surviving finals week 2018!
Finals will be taken Monday December 17th through Thursday December 20th. Exams will not be administered before its scheduled time. If a student does not attend their final during the scheduled time due to an extreme circumstance, they will not be allowed to make up the final unless the Dean and the Vice President of Instruction determine there is good cause. It is important to note that this permission is very rarely given.
Events during finals week:
Join us in the café on Monday December 17 from 10:00 to 11:00PM for their annual late night breakfast.
Make your way over to the Student Resource Center (SRC) at 11:00AM on Tuesday the 18th to hang out with the study buddy puppies to relax with between your finals!
Unsure of what time your final exams are set to begin? Below is the official Fall 2018 chart that explains what day and time your final will take place. A larger image can be found on the Iowa Central web page after searching '2018 fall finals schedule.'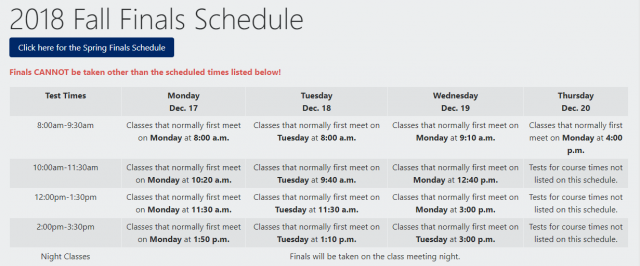 Here are your finals week survival guide tips from the Iowa Central Health Center!:
UNPLUG- Turning off the television and put down your phone to avoid distractions while studying.
PRIORITIZE study time. Saying no to things is okay. Just make sure to maintain a healthy balance of how much time you spend studying, and relaxing this week.
STUDY GROUPS– are a great way to prepare for your exams. You can quiz your classmates and ask questions to determine what material you need to spend more time on.
TAKE BREAKS. You can't memorize and comprehend everything in one sitting. Reward yourself after a while of studying to ensure your mind time to recharge.
LAUGH– Preparing for finals can be as stressful as you make it. Laugh with your friends, and take time to watch a funny show to relax.
SLEEP– Make sure that you are getting enough sleep each night especially during finals week. Set your alarm early enough in the morning that you can get up and start your day off with breakfast. Arrive to your final early to ensure that you have everything you need to begin your exam.
Are you feeling extra stressed this week, and looking for someone to talk to? Iowa Central offers a free and confidential counseling service available for all students! If you would like to set up a time for an appointment, please fill out the form on TritonPass under "student forms." Or you can email reuter@iowacentral.edu to set up a time.
The Triton Enrichment and Advising will have extended hours for finals week. On Monday December 17th, and Tuesday the 18th, the TEAC will be open until 10:00PM. Stop by to meet Iowa Centrals peer mentors, get some cookies, popcorn, or a hot dog. Note cards and scantrons will be available while supplies last, and everything is available for all students! The TEAC is located in the Student Support Services Building (SSS) in room 124, which is by the mail room.
One last reminder! Final room checks before Christmas break are on Monday December 17th, so please make sure that your dorms are tidy! A clean living space is a stress reliever for everyone. Room keys shut off on Thursday the 20th at 4:00PM. All keys will be shut off at this time unless you have made special arrangements with housing and paid the fee to stay on campus over break. The Spring semester will begin on Tuesday January 15, 2019. From all of us here at the Collegian, we hope you have a merry Christmas and a happy new year!