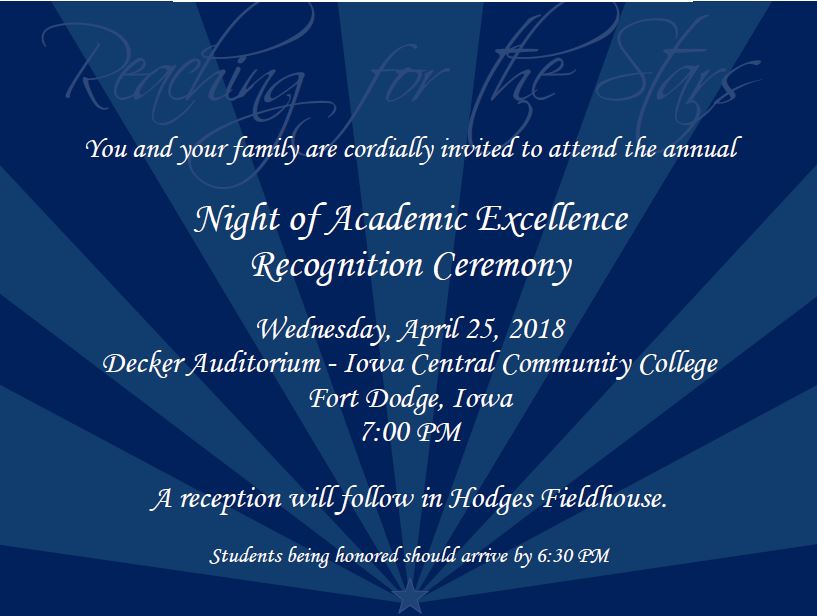 Every year Iowa Central hosts a Night of Academic Excellence to recognize hardworking students and their achievements over the past two semesters. The program has shifted direction slightly since 2017, and this year you can expect new awards.
Last year the program and awards focused around the Honor Society, Who's Who, male and female athlete of the year, and the Triton Excellence Award. The Who's Who award was based on academic merit, grade point average, service to the community, extracurricular activities, leadership experience, and several other things. This year since that award is no longer going to be given out, the committee hosting the Night of Academic Excellence, has decided to go a different direction with introducing new awards.
The awards committee has been meeting since the start of the Spring semester to discuss new ideas. Since the committee noticed there was more involvement with the Triton Excellence award in 2017, they have decided to expand the amount of nominees given within that category. Last year there were 12 students who were nominated, and this year the number has doubled to 24 students.
"We really wanted to see more students that go above and beyond in the classroom be recognized this year. We also wanted the opportunity to have the staff make nominations as they see first hand what makes these students so excellent." said committee chairperson of the Night of Academic Excellence, Shawna Schuler.
Some of the types of honors and awards that you can expect to see include the following:
Honor Society inductions- 3.5GPA or higher, and has enough credits to graduate

Female athlete of the year

Algoe award- Male athlete of the year

Triton Excellence Award- Nominated by faculty and staff, and includes hard workers in the classroom that are seen going above and beyond what they are asked to do.
"Anyone is welcome to attend the event and sit in the audience to watch the awards. Faculty and staff are also encouraged to join us and help support the students. It should be a fun night!" exclaimed Schuler.
The Night of Academic Excellence Recognition Ceremony will be on Wednesday, April 25, 2018 in Decker Auditorium. The event will begin at 7:00pm, and students being honored should arrive by 6:30pm. There will be a reception following the awards located in Hodges Fieldhouse.