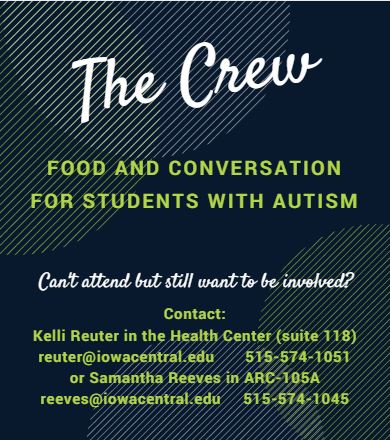 Out of the many groups and clubs our campus has to offer, there is one group that is not only unique but is also highly beneficial to those who attend its meetings. The Crew, a group centered around providing support for ICCC students on the Autism Spectrum, meets twice a month for an hour. The Crew began to meet in the fall of 2017, when a need for such a group was realized with increasing numbers of students enrolling diagnosed with Autism Spectrum Disorder. Also called ASD, Autism Spectrum Disorder is a developmental disorder that impacts someone's communication and social skills. Typically diagnosed in early childhood, anyone you know with this disorder has likely faced such obstacles the majority of their life.
Speaking to Kelli Reuter, she explained the origin of the Crew. "The idea for the Crew came about from myself and our disability coordinator, Samantha Reeves. We kept seeing students with ASD coming to college and felt there was a need to provide them with additional levels of support." Reuter explained, "My favorite part is getting the chance to meet with the student. Each student comes to the table with different challenges, opinions, and backgrounds. For me personally, it is also rewarding to see the students outside of the group meeting. Most of these students had never met or talked to each other before we created the Crew. Seeing them eating lunch together in the cafeteria, studying together in the ARC, and developing friendships with one another is so rewarding."
The Crew is a group that any student with ASD would be sure to benefit from. If you have ASD and would like to get involved with the Crew, you can contact Kelli Reuter, Samantha Reeves, or Melanie Vogt, all of whom would be happy to have you join.