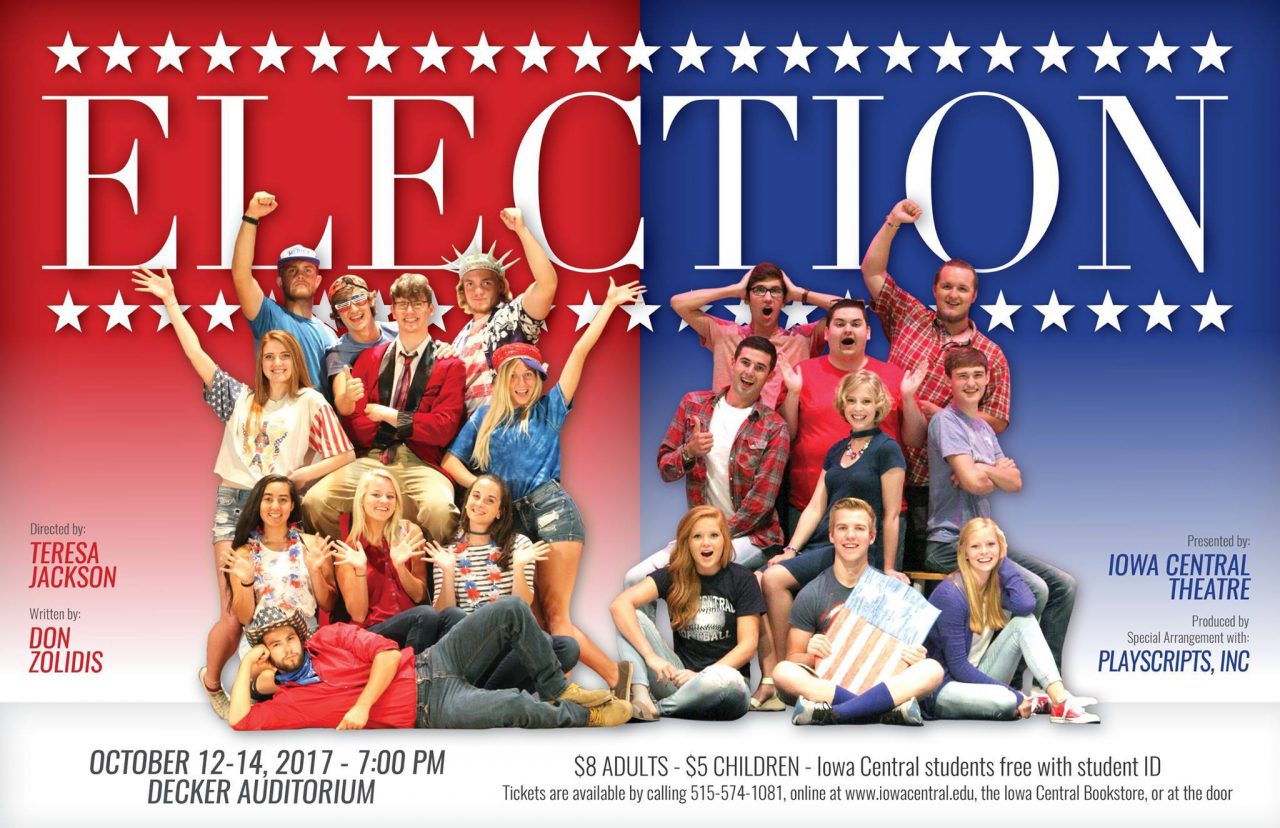 As is the tradition here at Iowa Central Community College, The Iowa Central Theater program brings you a play in the Fall and and a musical in the Spring. This Fall, brought to you by Director Teresa Jackson and written by Don Zolidis, the theater program presents to you The Election.
The Election drops you into events immediately following a scandal regarding the Pressley High School student president, who resigned in disgrace after events involving the high school's mascot. With this news in hand, the school throws together an emergency election to decide the next student president of Pressley High School. This looks to be a straightforward race, as there are only two candidates, Mark Davenport (portrayed by Nathan Bentz), and his opponent Christy Martin (portrayed by Morgan Pratkelis). From the outset it seems that Mark has the advantage, seeing as his opponent at first seems meek and wants to cut the football program among other student favored parts of the school. At this point in time, Mark thinks the Election is his for the taking, but that mindset seems to vanish rather quickly.
Mark's vision of an easy win is shattered when he spots Christy on television during what appears to be an ad for her campaign.  She is sporting a makeover, an accompanying entourage of dancers, and a promise that Pressley High School would be better off with her as student president. After watching this ad, Mark is flabbergasted at how Christy can pull this off, while Karl, his best friend and campaign manager, seems to be enthralled by Christy and her message. Unfortunately for Mark, the majority of the student body seems to share that opinion.
What  was supposed to be an easy win for Mark has now turned into what looks to be a one-sided path to victory for Christy. Everything Mark says or does in attempts to gather support seems to have the opposite effect. Mark remains focused on the issues while Christy subverts the issues and garners support and praise at every turn. If this pace continues, Mark will certainly face absolute defeat.  The days go by and Mark's approval ratings plummet by the day.  Then he meets Gary McMaster (portrayed by Calvin Clark). McMaster spills the beans on the secret of Christy's success. Christy has aligned herself with a political action committee, and said committee has granted her millions to use for her bid as student body president, and so far she is using it to crush Mark.
McMaster offers Mark a chance to even the playing field, but Mark refuses his offer, claiming that he wants a fair, positive election, for Mark believes democracy is doing what's right. An admirable stance that Mark lives by until a certain misunderstanding regarding some stuffed puppies results in Davenport having his back against the wall. McMaster offers him one final chance to accept the aid of McMaster's Political Action Committee and the chance to use the same tactics Christy has been using on him. Seeing no other option, Mark accepts McMaster's offer, and from there the elections begins in earnest.
Just in case you were wondering, yes, the plot of this production does borrow some elements from contemporary politics. But its execution is quite amazing. The Election, at its core, is a subtle satire of modern politics that is amazing at what it sets out to do. The humor writing is smart and doesn't point fingers, but it does make you think and that's part of what makes this production so great.
The Election has a lot going for it that helps contribute to its success, but the things that stuck out most to me are the performances and the direction. The Iowa Central Theatre program put on a fantastic show for everyone. It's clear that everyone on that stage was giving 110% in their performances, both in delivery and choreography. The lead actors' performances present realistic moral struggles and raise profound questions on what constitutes acceptable measures to attain victory.
As for the direction, I have not seen many of Teresa Jackson's productions, but based on this production, Jackson proves that her directing is top notch. Great performers without good direction can only do so much. However with the Election there is no need to fear, as Jackson's direction and the performances work hand in hand to deliver an unforgettable experience, enhanced by dynamic sets and a great soundtrack.
In a day and age where people have grown weary of the constant talk of politics, this production and its performers give you hope. A hope for a better tomorrow, The Election is a clever satire that engages you in a thought provoking manner, and gives you a fair share of laughs while providing a grounded narrative with a strong, heartfelt theme; No matter what, at the end of the day, we are all human beings. The Election was a fantastic show and I, along with many others, are eager to see what Director Jackson and others bring us in the Spring and beyond.
Photos courtesy of Kaitlyn Goodrich