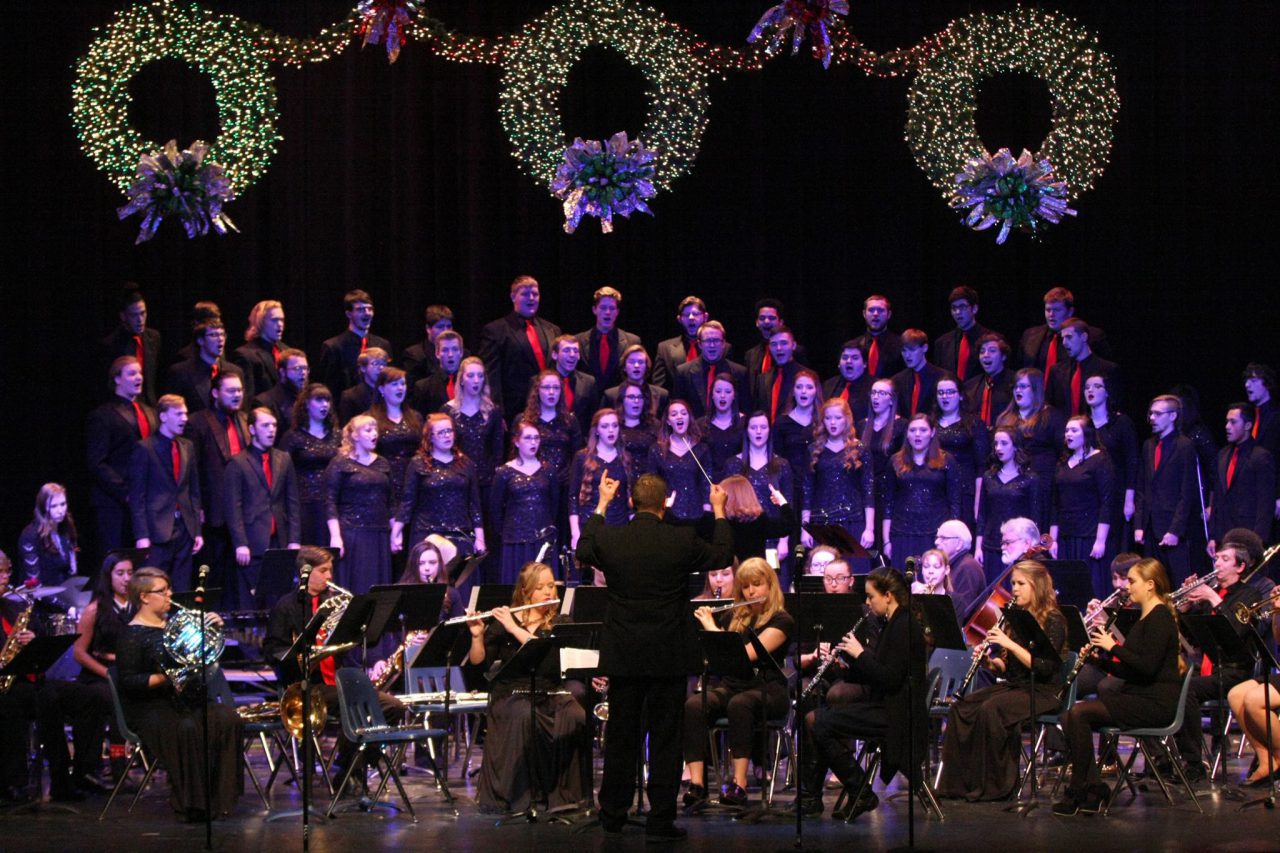 From December 6th through the 8th, Iowa Central's Music and Visual Arts Departments performed their annual Holiday Concert. The stage in Decker Auditorium was lit up with an arrangement of festive decorations. Almost every seat was filled with anxious students and local community members.
The 2017 Holiday Concert featured both Concert band and Jazz band under the direction of Paul Bloomquist. The concert pieces that were performed alternated between band and chorus, and occasionally both departments performed together. Kathleen Schreier led the vocal music portions of the event. The program featured seasonal classics ranging anywhere from Felix Bernard's "Winter Wonderland" to John Coots' "Santa Claus Is Comin' to Town."
The concert band and choir featured many soloists throughout the night, but there was a show stopping twist to the vocal jazz number that was performed. Three members of the Iowa Central Dance Team: Zoey Aune, Emma Simpson, and Sarina Izumiya took to the stage during the vocal jazz selection, and they stole the spotlight dancing to "Dance of the Sugar Plum Fairies."
During intermission, the host of the show, Andra Niles, encouraged the audience to view the Triton Art Gallery just outside of the auditorium. The gallery featured various paintings, sketches, and ceramic works created by students in the Iowa Central Art Department.
Some acknowledgements of the night include the prestigious students that were a part of the 2017 Iowa Collegiate Honor Band. These students included Brittany Eger on Trumpet, Sierra Layne on French Horn, and Samantha Cordero on the Bassoon. The other acknowledgement of the night goes to the 18 young ladies who make up the Iowa Central Dance Team. Under the direction of Head Dance Coach Lesa Dencklau, on November 30th the team competed in the Annual Iowa State Dance and Drill Team Championships at Wells Fargo Arena in Des Moines, Iowa. The Triton dancers brought home State Titles in the Community College Hip Hop, Jazz, and Pom Divisions.
These were very successful performances by the 2017 Iowa Central Music and Visual Arts Departments. Together as a collaboration from various departments, the student body helped spread Christmas cheer before the final weeks of the fall semester.