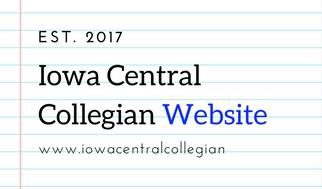 The fall of 2017 marked the beginning of my freshman year here at Iowa Central, and the start of trying to find my place on campus. Throughout the first week of class several of my teachers were promoting the student run newspaper, the Collegian. They began asking around in multiple classes for students who would be interested in publishing their work, and to practice writing. Immediately I was interested in this opportunity, but I was unsure if I felt qualified enough to give myself a chance. Looking back on my first year here at Iowa Central, if I have any advice to give to incoming freshman, it would be to take the chance. Whether it be joining a club you are unsure about, or making yourself socialize on college orientation day; take the risk because it could give you the best opportunity of your life.
The Collegian's first meeting of 2017 was during the second week of school, on September 6th at 6:00 in Science 109. That night we met our newspaper advisers, Michelle Tjaden and Justin Robertson, who would help us organize our meetings and ideas. I also met a few sophomores who returned to write for the newspaper again this year, and would ultimately guide our future success. It was on this night that I learned that this school year the Collegian would be making the switch from print newspapers to creating our own website. I was basically joining a club that I would help build from the ground up, and that was almost as exciting as it was intimidating.
As a team we assigned writers to a few editors, and although it was a small group of students this year, I can attest that we most definitely persevered. Throughout our first couple of meetings we began the short process of creating and designing the website, and the very long process of waiting for it to be approved. Although it was very frustrating at times to wait for the website to finally come together, we were all very excited a few months down the road when it was completed. We had been writing and stockpiling articles since the first week of school, so we were thrilled to finally have a place to publish our work.
Our first online article was published on November 30th, 2017. Since then we have gained many exciting views on each article published, and it continued to grow as the weeks went on. Our weekly 2:00pm meetings in SCI 209 quickly became a room that felt like home, and an exciting place to share your creative ideas. It's sad that this school year is coming to an end when it feels like we have just gotten started with creative content ideas, and finally understanding the features of the website. This will be our last article published until the fall 2018 semester begins, but don't worry because we have just scratched the surface for the exciting new future of the Collegian!
As a writer for the Collegian I want to thank Michelle and Justin for their unwavering support and faith in us as students. I know how frustrating the start of the year was for us all, but we made it through together, and our success is accounted for due to your determination. I honestly did not know what I was getting myself into when I joined the student newspaper, but it has been the most rewarding experience I've had here at Iowa Central. To my fellow writers and editors: it has been such a fun experience to learn and grow with you all. You are some of the most creative people I have ever met, and you made this year so enjoyable.
To our readers, thank you so much for sticking with us as we transitioned from print to online publications this year! You can find our articles posted here at http://www.iowacentralcollegian.com/.
We are also always looking for new writers for the fall of 2018, and there will be more information on meeting times when the upcoming school year begins. If you would like more information on the Collegian or how to join, feel free to contact our advisers.