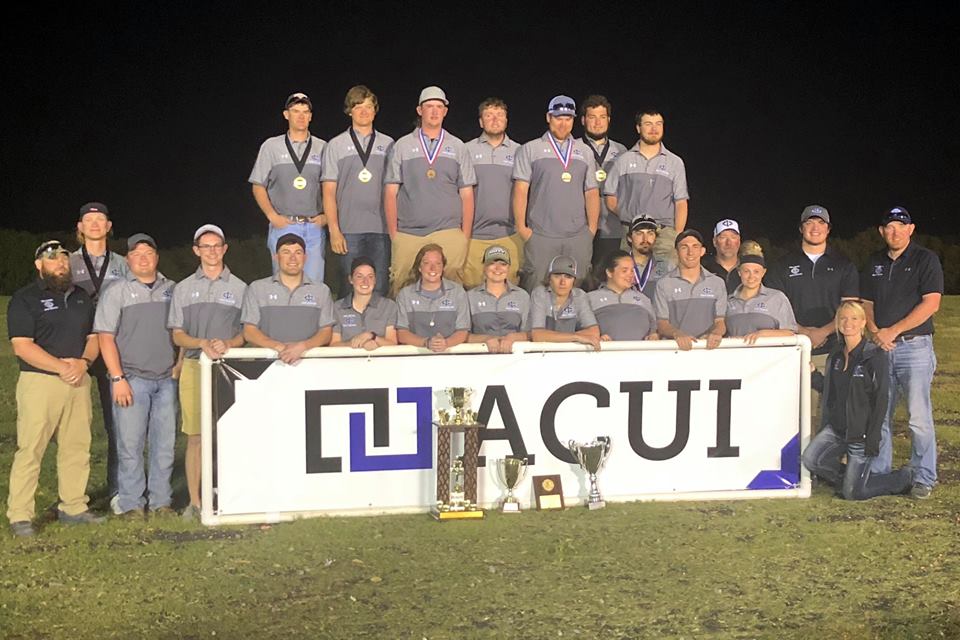 On April 1st, the Iowa Central Sports Shooting team returned from the ACUI Collegiate Clay Target Championships. The event was held in San Antonio, Texas, where the team successfully defended their national title in American Trap, scoring 492 out of a possible 500. In addition to this victory, the team earned 3rd place in International Trap, with a score of 259 out of a possible 300. Not only was the team triumphant in these respects, but individual representatives of Iowa Central shone as well at this competition.
For instance, Taylor Nelson received a perfect score of 100 in American Trap. This automatically made him the National Champion in Class A. He had tied with four others, all of whom competed with him in a shoot-off for National Champion over all classes. Never missing a clay and shooting a total of 171 targets in a row, Taylor confirmed his place as the Individual American Trap National Champion. In the team's overall score for American Trap, contributing teammates were Ty Haugen, who scored a 99, Kaleb Gipson, who scored 98, Nick Hamand who also scored 98, and Clinton Manning, who scored 97.
The team saw similar success in International Trap, despite having little preparation for this event. In fact, most of the team only learned about it the day before the competition, as Iowa Central lacks the facilities close enough to practice. Despite this adversity, the Sports Shooting team pulled off a 3rd place achievement. Lane Dundee led the team with a score of 87, while his teammates Kaden Waack and Clinton Manning trailed close behind with matching scores of 86.
Overall, the team placed 4th, marked by the events American Skeet, American Trap, International Skeet, International Trap, Sporting Clays, and Super Sporting Clays. The American Skeet score for Iowa Central was led by Lane Dundee, who scored 97. Teammates Clinton Manning, Alexis Louck, Konnor Wendt, and Kaden Waack all contributed to the final score of 455. International Skeet was led by Lane Dundee as well, who scored 86. Dundee was aided by his teammates Clinton Manning and Kaleb Gipson in this event, earning a combined score of 227. Sporting Clays saw Lane Dundee at the lead with a score of 72, closely followed by teammates Kaden Waack and Clinton Manning, which earned a score of 337. Finally, Super Sporting Clays was led by Lane Dundee with a score of 85. Teammates Clinton Manning, Ty Haugen, Jed Miller, and Konnor Wendt helped to confirm the event's final score of 395.
Another Iowa Central student earning an individual title alongside Taylor Nelson was Ty Haugen. Haugen earned 4th place out of 190 shooters in Class A for American Trap, earning a score of 99.
Coach Joe Tuel claimed, "They not only showed their sportsmanship on the shooting fields, but they represented Iowa Central very well outside of the shooting facility. Our coaching staff is incredibly proud of their accomplishments!" It is clear through their achievements that the team has worked very hard to be where they are today, demonstrating consistent sportsmanship and merit throughout . We hope to see continued success in following years.