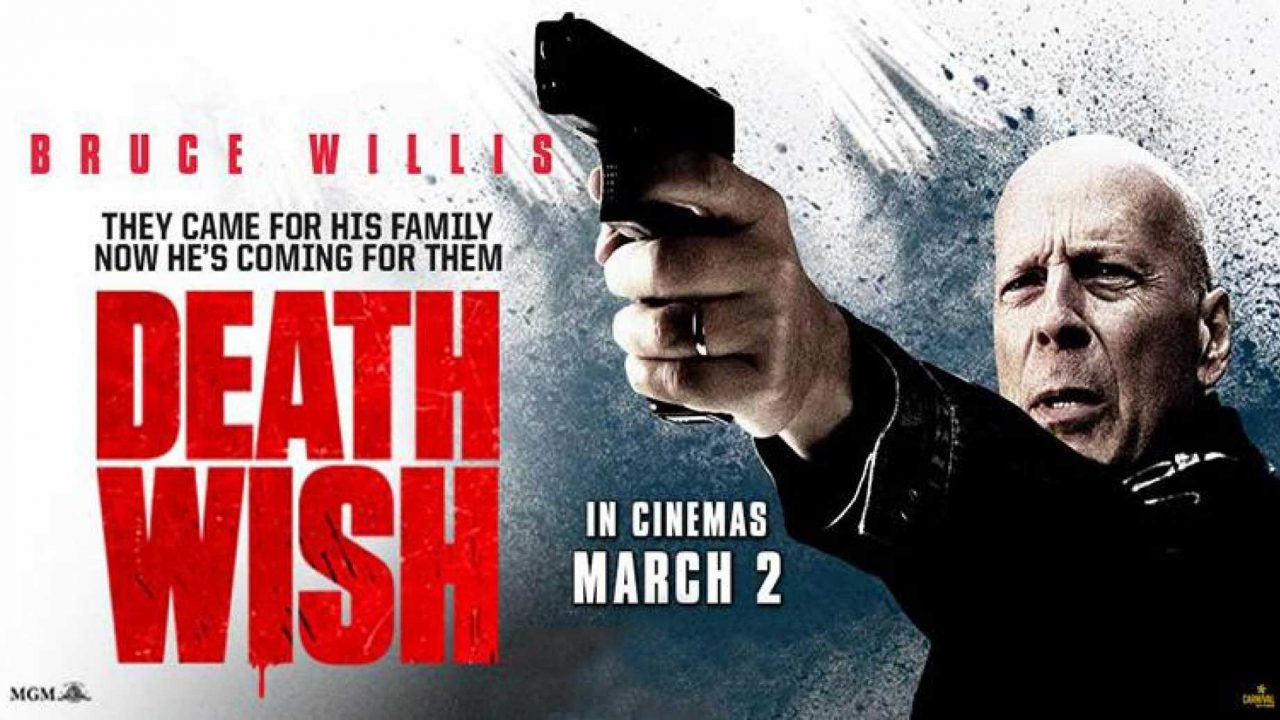 Death Wish hit theaters on March 2nd as a remake of the 1974 Charles Bronson movie. If you are a fan of movies being based on books, then you are in luck because both movies were inspired by a book written by Brian Garfield. This drama/crime film features extreme violence, gore, and strong language, which solidifies why it is rated R.
Directed by Eli Roth, this movie follows your ordinary working family living in Chicago, Illinois. Dr. Paul Kersey (Bruce Willis) lives a busy, yet joyful life while working as a trauma surgeon and being a family man for his wife Lucy (Elisabeth Shue), and daughter Jordan (Camila Morrone). Shortly after the movie begins Paul's life is turned upside down when his family suddenly falls victim to the brutal crimes that take place in Chicago. With his heart aching for revenge, Paul takes justice into his own hands. As a trauma surgeon turned vigilante, he sets out on a mission to find the men responsible for harming his family.
Going into the theater after hearing the title alone, you have to realize that this is not a family friendly, feel good type of movie. What you are paying to see is what the title sounds like: Bruce Willis in action shots, featuring guns, blood, violence, and language. One thing to note is that this movie is more on the extreme side of showing violence. You will see blood wounds and gore, people dying, and even someone being tortured. It can be a lot to view for a movie that runs just under two hours long.
Hollywood can always go without taking the extra step to push a movie from PG-13 to rated R, and that was very evident in the case of Death Wish. With some minor changes, and more creative fight scenes to cut down on the gore, this movie could have appealed to a bigger audience. The main idea was that they strayed away from the comedy aspect, and tried stay true to the original theme of previous incarnations of this film.
I am giving this movie a 3.5 stars out of 5 for a few specific reasons. This movie decided to feature minimal comedic moments, and was very dedicated to being drama/crime filled. I think the action scenes were lacking a "wow factor" to set this movie apart from just being okay. There wasn't a moment for me when I was scared for the main characters life, or that I was blown away by any of the multiple shooting scenes. Another problem I had a hard time getting past was the casting of the perpetrators that Paul is determined to hunt down. The so called bad guys just weren't bad enough. There were times when as an audience member when you were expected to be scared, and I couldn't lose myself in that part of the story because it didn't feel believable enough.
Bruce Willis delivered on his acting in this movie, and if you are a fan of him you will enjoy his character. He showed emotion when his character needed it, and he was the definition of a cool guy for the remainder of the time. His acting is what made this movie so great. Willis created a dynamic that takes you on a emotional ride throughout the movie, and this gives it the factor that there is something for everyone. There's moments of humor, moments of heartfelt sadness and joy, action, and loads of violence.
There is an underlying positive message that this movie portrays: the love of a father and what it means to protect your family. Although there is controversy about the timing of this movie's release due to recent tragic events such as the Parkland shooting, I think there is no time better than the present to talk about gun violence. At least now we can say that people are finally talking, even if it takes young adults noticing themes in a movie like this to finally spark a conversation.
Death Wish is the property of Metro-Goldwyn-Mayer Studios