Iowa Central Community College held their annual student art exhibit outside of Decker Auditorium for the first two weeks of December. On December 13th supporters of the arts gathered at 5:00PM for the Triton art gallery reception. This year on behalf of the Visual Arts faculty the community was welcomed to the Fall 2018 Student Art Exhibition. This night is presented to celebrate the accomplishments of this semesters talented art students.
All students that are enrolled in studio art classes participate in the show. These students include drawing, design, graphic design, ceramics, web and graphics technology. Each piece displayed in the lobby are new pieces that were created during the Fall 2018 semester.
The awards that were given out to the students are as follows:
First place- $200 scholarship
Second place- $100 scholarship
Best in Show- $250 scholarship
Dean's Choice- $100 scholarship
Vice President's Choice- $100 scholarship Dr Stacy Mentzer, Vice President of instruction
President's Choice- $100 scholarship
The first award of the night, Dean's Choice, was presented by the Dean of Liberal Arts and Sciences, Jennifer Condon. She selected the piece 'Time to Imagine' by Adrianne Hilts. While presenting the award Condon exclaimed, "The reason why I selected this piece was because of your use of colors. I could see the imagination that you used to create this. All of the individual pieces really stood out to me. Great work, Adrianne!"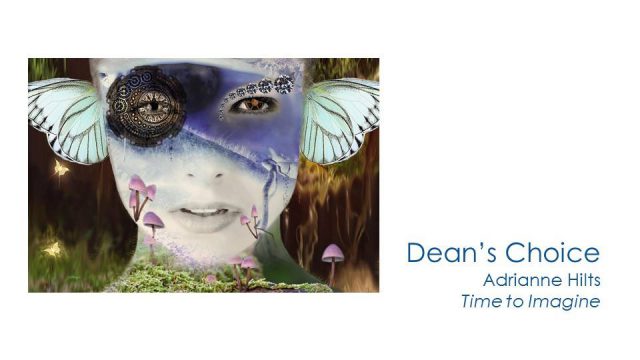 The next award was given out by the Vice President of Instruction, Dr. Stacy Mentzer. She selected the visual art piece called "Lone Wolf," created by Jadyn Caron. Mentzer said, "I think what initially drew me into this piece was the feeling of home that it gave me. I live in an area secluded in the woods, and your wolf reminded me of that. I love the dimension and the creativity you used in this piece, congratulations."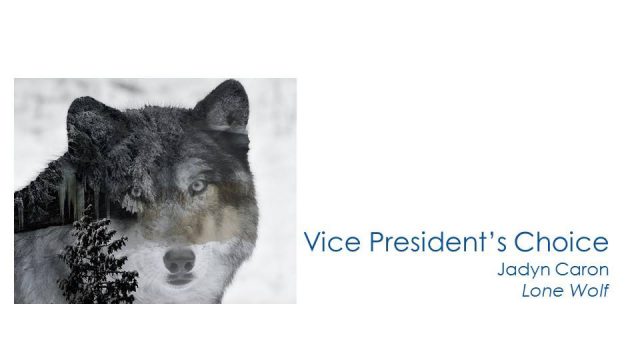 Dr. Kinney's President choice award of a $100 scholarship went to Christian Conover's piece, "AMERICA!!!"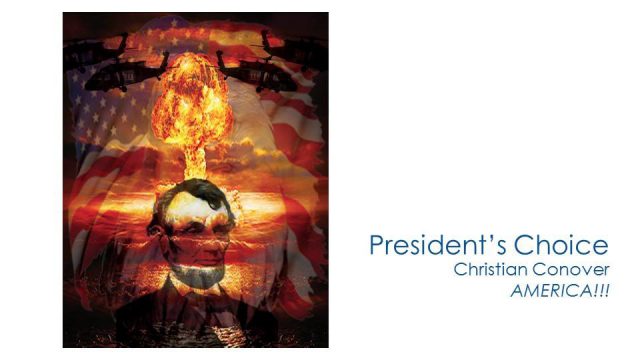 The remaining awards were presented by juror Barbara Huisman. As stated in the program, The Rev. Barbara Huisman is a pastor of a unique space called Cana in Fort Dodge, Iowa. She strives to use her education as a gift to bring people together to discover creative living. Barbara uses programs and art experiences to create connections with different individuals. She received a BFA in Art Design, and a BFA in Graphic Design through Iowa State University. She received a Master of Divinity through University of Dubuque Theological Seminary, and is certified as a Spiritual Director through PrairieFire, a program of the Des Moines Pastoral Counseling Center.
Huisman took to the stage to present Drawing second place. Before she presented the award she explained, "I saw a lot of stories being told out there in those drawings. I am so proud of all the expression out there. It was so hard to choose a favorite. I truly think they are all great, and that you are all artists." Drawing second place went to "head space" by David Salazar. Huisman continued, "I really wanted to know what you had to say about this, David. This is very unique."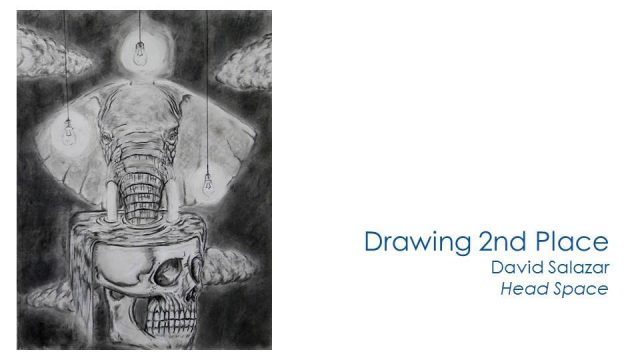 Drawing first place went to "Honeymoon avenue" by Chiara Catigbe. "One day we will have a cup of coffee, you and David, and I will finally hear the story behind these two magnificent pieces," Huisman exclaimed as Catigbe accepted her award on stage.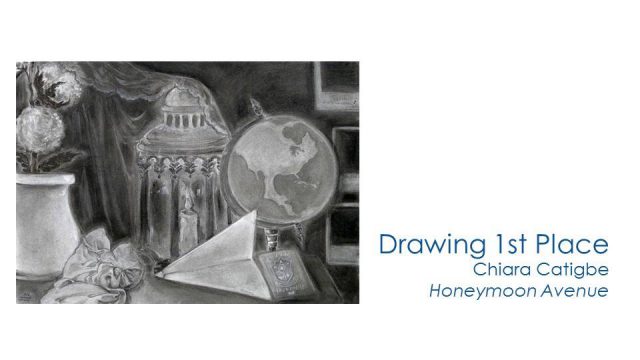 Design second place went to "Cornus Alternifolia" by Ashli VanDeest.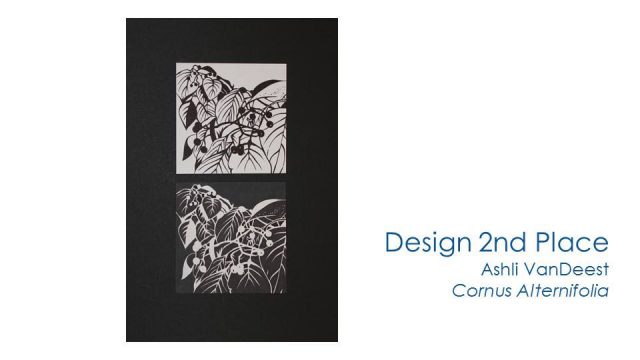 Design first place went to "History Repeating" by Jenna Neumann. Huisman said, "This piece just told me a story. I love the collage, and the attention to detail you used. I believe your work here made everyone take a second glance to truly take in the message." Great work, Jenna!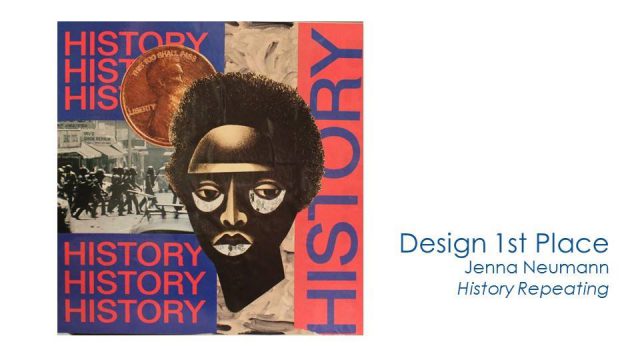 Graphic design second place went to "AMERICA!!!" Receiving his second award of the night was Christian Conover. Huisman greeted Conover to the stage with a smile. "I love the way your vision came to life. You invited the viewer into this graphic design piece layer by layer, and I really appreciate that," she said.
Graphic design first place went to Erick Bautista's "Reflection."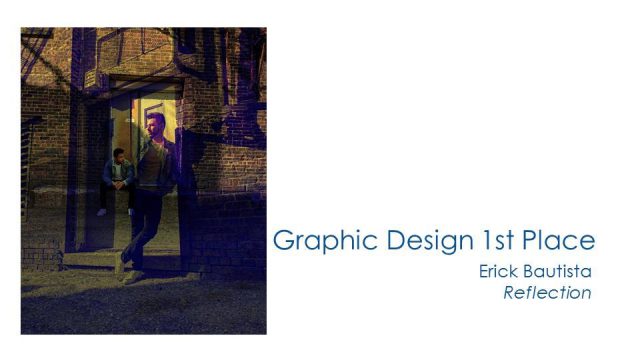 Ceramics second place went to "Lost" by Brenda Hopkins. Huisman enthused, "There were so many wonderful ceramic pieces out there to choose from. The simplicity of this one really caught my eye. I liked the idea of using something as simple as a few lines engulfed in color to make this piece magical. Wonderful effort!"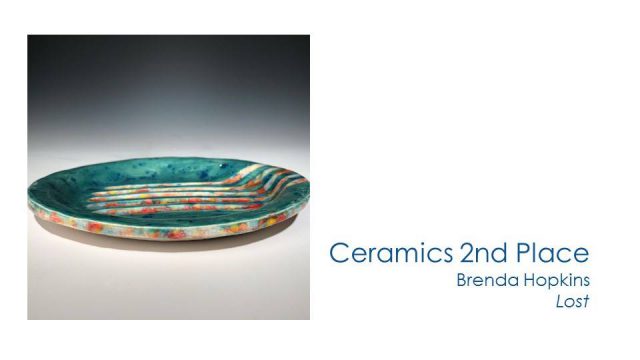 Ceramics first place went to "Abstraction" by Bruna Moureira.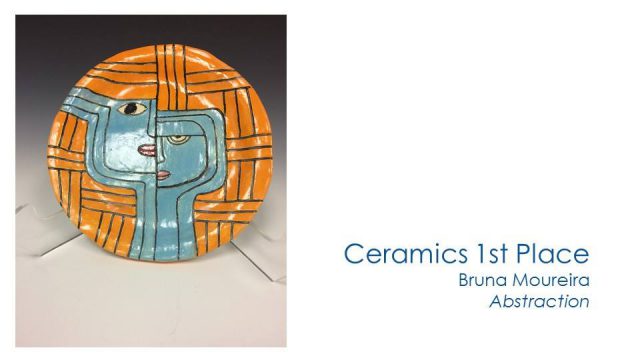 Best in show was the final award of the night. This category is special because it is selected by the juror and could be any piece from the lobby created in the Fall 2018 semester. Huisman selected "Resting on River Beds" by Ashli VanDeest. Huisman proclaimed, "I love the texture, and your use of space. I just loved the way you put the whole thing together. You really have an eye for ceramics, so please stay with it. I really appreciate this piece, so thank you very much Ashli."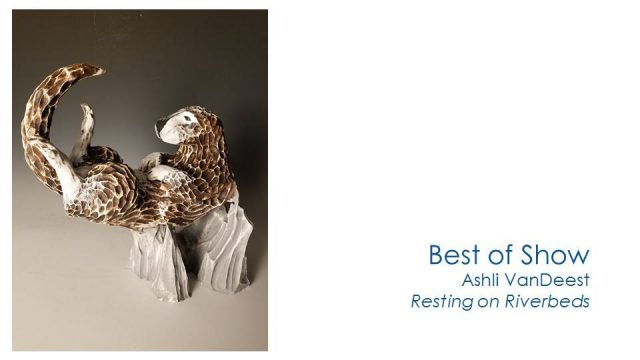 Congratulations to all of the winners and participants in the Fall 2018 Triton Art Gallery! Thank you to Iowa Central Administration, Faculty, and Staff for their continued support of the Triton Art Gallery and the Visual Arts.